Our Mission:
To protect property values, establish and maintain an open line of communications with the City of Vallejo and other local groups, and promote a community spirit to enhance the livability of the Vallejo Heights area.
Welcome!
Beautiful communities are comprised of passionate, diverse, supportive neighbors and Vallejo Heights is just such a place. A unique and inclusive community where people come together with the help of an organization such as VHNA to create the ideal tone, feel and experience they desire in their neighborhood.
We need your help now to continue the renaissance of this historic part of Vallejo. Keep in mind…
"There is a vitality, a life-force, an energy, a quickening that is translated through you into action, and because there is only one of you in all of time this expression is unique and if you block it, it will never exist through any other medium and be lost. The world will not have it! It is not your business to determine how good it is nor how it compares with other expressions. It is your business to keep it yours clearly and directly, to keep the channel open."
Martha Graham
Please bring your passion and join VHNA to explore this wonderful community, meet your neighbors and help create the neighborhood you want to live in.
VHNA Board of Directors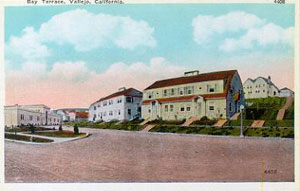 < Artist's rendition of Bay Terrace circa 1916.
< View from 106 B Street (1940 )
< Another view from 106 B Street (1940)
< Terry's Restaurant